February 22, 1998
With a move to Ljubljana, Slovenia slated for August 1998, MJ had to take on a different role in OilFans.com's progress. Instead of being right in Edmonton where the Oiler action was, MJ was viewing the team from Central Europe while continuing to maintain the site. While Aubrey Chau had taken a back-burner as far as writing went by this time, new writers were ready to jump right into MJ and Aubrey's spot. Matthew Koncur remained a stable member of OilFans.com's staff while others came and went with each passing month.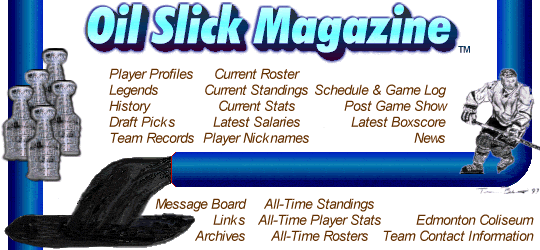 April 1, 1998
Another month, another logo. MJ was working hard to get a new hockeytape.com site to near perfection before he pursued the start of his career in Slovenia. With AllSports.com not giving enough power of freedom to MJ's design process, the new webhosting company, HockeyTape.com was going to take on OilFans.com.

HockeyTape.com Oil Slick Magazine Opens Its Doors June 17, 1998
June 17th and a couple months to spare before a major physical move for MJ. As far as the site goes, hockeytape.com proved to be the best yet. The layout and design had settled down with MJ's web design skills.
First messageboard on hockeytape.com. Take a look at a frozen-in-time shot. The board is dated August 4, 1998. Very quiet offseason.
Messageboard eh? Take a look at a frozen-in-time shot. The board is dated July 8, 1999. It would be only months before Wayne Gretzky's retirement at Skyreach Centre. Test your memory: Moo, Oilers#1, Mats, Bryan, RR#1, Disco Stu, D'Artagnon, PotiFan. Some of these names can still be found in newer and improved models in 2004. Didn't even need to login to this board yet either! That day would soon arrive.
The site at HockeyTape.com was the first chance the site had its chance to grow and florish in a more permanent home. While the domain OilFans.com was not purchased or even thought about at this stage of the game, by the fall of 1999, everything would be changed forever.